Winners of the Extend Firefox 2 Contest
The results of the contest were announced on March 12 and best extensions according to the jury, which included J. J. Garrett, the inventor of the term Ajax, are provided below.
Most of these extensions (those winning at least) were here for a long time, so congratulations from the organizers to candidates to have provided the software on time seem rather superfluous.
The top three extensions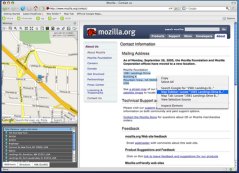 Minimap Sidebar
This extension adds a map in the sidebar. This map will synchronize with the addresses found in web pages.
Sameplace Instant Messenger
It is a messaging software that integrates with Firefox, whose goal is to centralize in the browser all services.
Shareaholic
Used to transmit to bookmark sites or emails URLs of the pages you visit.
The other winners
12 other extensions have been winning:
All-in-one sidebar
Allows you to switch from one page to another among all documents in memory, from the sidebar.
Boox
Adds new features to bookmarks.
del.icio.us IncSearch
Search Tool for bookmarked site on the del.icio.us.
Fast Dial
Displays bookmarks as thumbnails.
FireGestures
Turns movements of the mouse into commands.
FootieFox
Displays sports scores.
qtl
Simplified translation tool .
Shrinkify
Shrink URLs?
Table2Clipboard
Place a table in the clipboard retaining formatting.
Update Scanner
Alternative to RSS for website where feed are missing and informs of updates on these sites.
URL Fixer
Corrects URLs' extensions (TLD) when they are improperly typed in the bar.
Conclusion
The extensions I use daily, are not in the list of winners, for this edition, but they are in the list of essential extensions for webmasters.
© 2008 Xul.fr - All rights reserved.