Xul.fr - Graphical interfaces with Ajax, HTML 5, JavaScript and CSS
Tutorials and demos to master components of modern apps based on standard of the Web.
Ajax Tutorial
Building a page with Ajax. Examples in raw text and XML.
HTML 5
Universal platform for desktops, mobiles and tablets.
JavaScript interactive
It is easy to master the langage with interactive demos.
CSS
Learn the language of style.
Firefox extensions
Gecko engine allows Firefox to display HTML and XUL. Firefox may be used as a development tool for Ajax and JavaScript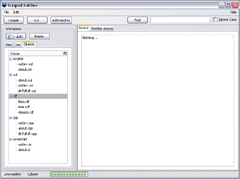 XUL Tutorial
The tutorial allows to build first XUL applications in less than three hours.
RSS tutorial
How to build and use an RSS 2.0 feed.
SVG, interactive graphics in web pages
Description and tools of the XML language for vectorial graphics in Web pages.
Archives 2013 - 2012 - 2011 - 2010 - 2009 - 2008


RSS © 2006-2013
xul.fr