HTML 5 as user interface of the operating system
Jolicloud is a free OS for netbooks and other hardware, designed primarily to run Web applications. The latest version uses an interface written only in HTML 5 and JavaScript with Linux for the backend.
The system and the cloud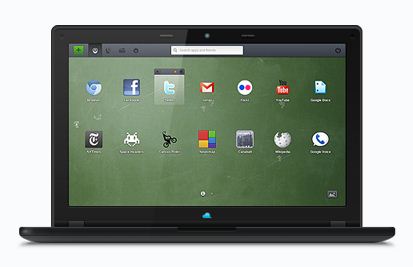 As its name suggests, it is an interface to the cloud that hosts the applications on a server to connect customers. Data storage is done on the server or locally.
Jolicloud uses Debian Linux for the file system and HTML 5 for the interface. It has the recognition of touchscreens.
It can operate together with Windows, and as Android, to be chosen by the user to start very quickly and allow immediate use of applications such as a browser or send emails.
Unlike Chrome OS, the system can run native applications outside the browser.
Architecture and interface
The system is made of three components:
The Linux kernel.
The user interface built in HTML 5.
My Jolicloud, an online space that contains applications, and the user can customize.
The user can use Linux applications including a browser, or Wine for Windows applications, or applications online in their personal space.
Online applications can run offline for some of them.
What we found on a computer, screen, taskbar, icons, windows, all this is designed in HTML 5.
This format is becoming a competitor to XUL and other interface languages such as XAML and JavaFX.
Besides, Mozilla Labs is currently testing the building of a browser using XULRunner and made entirely in HTML and JavaScript, Chromeless.
Conclusion
Such a system seems particularly useful when you want to use a mobile device with a dock to connect to a video monitor, a keyboard, a mouse, peripheral units. This completely replaces the desktop and adds an additional mode of interaction, the touch screen on the tablet or the smartphone.
But Jolicloud will have a serious competitor: Windows 8 is offering a dual interface, in HTML 5 for immersive apps in Metro, and Windows Desktop for common applications.
© 2010-2012 Xul.fr