HTML 5 and Firefox 3.5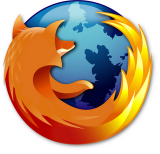 Version 3.5 of Firefox will provide more comprehensive support of HTML 5, as detailed in the changes notes about the version on the Mozilla site.
Audio and video, offline, drag and drop are now implemented. Support is improved to Ajax and DOM too.
The video tag works like the Canvas tag, with in content a text that is displayed on non-compatible browser:
<video src="xxxx.ogg" autoplay>   Your browser does not support HTML 5 
</video>
The MOV and OGG formats are supported.
As with Canvas, it interacts with media by JavaScript instructions.
var v = document.getElementsByTagName("video")[0];   
v.play();  
The audio tag works similarly.
Other changes in Firefox 3.5...
Offline:
The offline mode was already supported by Firefox 3.1, but the HTML 5 specification has changed, Firefox 3.5 takes into account the new standard.
Drag and drop:
An API defined in HTML 5 enables native support for moving elements in a Web page. This will make obsolete much of frameworks ...
Authors of JavaScript libraries should look at the standard interface for a smooth transition.
Ajax:
Canvas:
The Text API is now implemented.
CSS support:
Ability to load fonts.
Support - finally - to the opacity property in place of -moz-opacity.
text-shadow property to shade characters.
You can apply SVG effects to HTML elements.
DOM and storage:
LocalStorage now implemented.
Geolocation to adapt pages to the public.
JSON integrated.
Firefox 3.5 is a major change with the implementation of HTML 5, which will be further improved in following versions and this will be true also for other browsers, including Internet Explorer.
The browser resembles more and more to a graphical interface for online applications.
References
© 2009-2012 Xul.fr