Spicebird, a collaboration suite
It is the combination of Thunderbird (email management), Google Talk (discussion), Sunbird (calendar) and Lightning (agenda), the software runs on Windows and Linux.
We can manage emails in connection with a calendar and contact manager and go directly in chat mode if needed.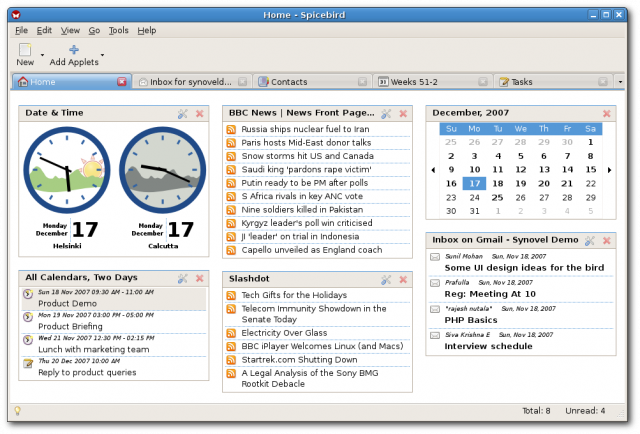 This takes the form of a tab for each application. The windows are connected, we can move an element from a page to another, placing a message in the calendar or in the chat window, for example.
Embedded software:
Chat. Talk as on the phone in a window.
Calendar. View by month, week.
Management of contacts. Addresses and appointments.
Tasks.
Management of mails. As Outlook or Mozilla Thunderbird, which is included.
The difference with SeaMonkey, which also provides a chat tool is that Spicebird mainly manages  personal information, even if they are used to manage activities on the Web, while SeaMonkey provides a set of tools which themselves, help to communicate on the Web.
Spicebird. Download the Internet suite. The first beta version has been available since January 2008.